Texas A&M Health Science Center College of Medicine
M.D. candidate, 2018
MS2:
Pediatric Interest Group: Treasurer, Historian
TAMHSC Journal: Production Editor
MS1:
Class of 2018 Vice President
University of Notre Dame
Graphic Design
B.A., 2007
Dean's List: 2006, 2007
Semester in London: fall 2005
Art Director:
Keenan Hall: 2004 - 2007
Keenan Revue: 03/04, 04/05, 06/07
University of Texas at Dallas
Biology, Health Care Studies
January 2012 - May 2014
Post-Baccalaureate
Pre-Health Society: 2012 - 2014
» President: 2013 - 2014
» Communic'n Officer: 12/13
» Distinguished Member: S12
TA, Biochemistry I: 2013 - 2014
Alpha Epsilon Delta: 2012
Eastfield College
Sciences
August 2010 - December 2011
President's Honor Roll: 10/11
Phi Theta Kappa: 2011
» President: fall 2011
Sigma Kappa Delta: 2011
Bishop Lynch High School
Dallas, Texas
Class of 2003
in-Training
Design consultant
2015
in-Training is an online, peer-edited journal run exclusively by medical students. I was asked by the founders to provide input and feedback on the design of in-Training: Stories from Tomorrow's Physicians, a print publication that will contain 100+ select pieces published by the magazine since its founding in 2012.
Aggies Invent
College Station, Texas
November 2015
Aggies Invent is a 48-hour-long event hosted by Texas A&M University's Engineering Innovation Center in which engineering, medical, business, and other students develop solutions to given problems. The theme of my weekend was pediatric medicine.
I was part of an excellent team of engineering and medical students; together, we developed a portable diagnostic kit for health care providers in resource-starved settings. Our product, the PediaPod, combined a stethoscope, electrocardiogram, and pulse oximeter into a small, durable, aesthetically-pleasing prototype. For more information on the weekend, please read the official press.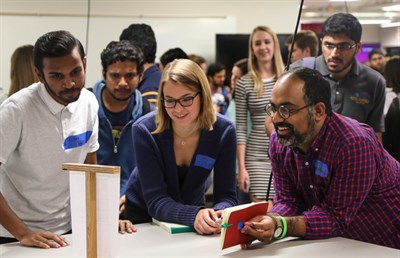 3 Day Startup
Austin, Texas
April 2015
3 Day Startup is an intensive, weekend-long event in which students develop an idea through ethnographic research and stages of rapid prototyping, then pitch their product to a panel of judges (entrepreneurs and innovators themselves).
After pitching my initial idea, I was able to recruit a talented team; together, we shifted goals and developed an idea for a web-interface that connects high schoolers interested in performing community service with organizations that need help.
Camp Sweeney
Gainesville, Texas
Medicine
Senior Medical Staff
May 2014 – present
Camp Sweeney is a camp for children with diabetes. About 200+ campers attend each of the three 3-week-long sessions each summer. As a member of the Senior Medical Staff, I oversaw a junior staff of 13 rising-2nd-year medical students, including crafting schedules and delegating responsibilities. I served as first call on all medical emergencies, organizing our response and communicating with the attending physician. I also served as a link between the program staff and medical staff, facilitating clear communication between counselors, associates, and medical staff at daily meetings.
As a member of the Medical Staff, I also communicated with parents, coordinated off-site care, monitored blood glucose readings, dosed insulin, managed medications, attended to campers at the daily illness and injury clinic, presented lectures about diabetes tailored to age groups, and responded to daily and emergency medical needs.
Head Counselor, Assistant Program Staff
summer 2005 – summer 2008
I was responsible for daily and emergency diabetic care and instruction of campers. I organized and managed daily activities, implemented the camp's program, and led the oldest boy's cabin. I also taught courses in art, fishing, silkscreen, video broadcasting, and web publishing.
Dallas Medical Journal
Dallas, Texas
Design
Designer
January 2014 – July 2014
The Dallas County Medical Society asked me to redesign the Dallas Medical Journal and design subsequent issues. I implemented new layout and typeface decisions to give the monthly magazine a more professional look.
Various clients
Dallas/Austin, Texas
Design
Freelance Designer
fall 2008 – present
I created posters, apparel, fliers, and vector- and tablet-based illustration for use on websites and other media. Clients include Camp Sweeney, Pickle Jar Productions, Dallas Running Club, TX Tough (Children's Medical Center), and the Kerala Association of Dallas.
Scholastic Magazine (Notre Dame)
Assistant Designer
spring 2006 – spring 2007
Responsible for designing page layouts, illustrations in campus–wide magazine.
University of Notre Dame
Freelance Designer
fall 2003 – spring 2007
Art directed and designed apparel, identity and collateral, publicity campaigns, and more.
Bishop Lynch High School
Freelance Designer
fall 1999 – fall 2010
Designed apparel, logos, signage for teams and organizations as a student and alumnus.
Adobe
Photoshop
Illustrator
InDesign
ImageReady
Microsoft Office
Word
Excel
Powerpoint
Other languages
Spanish
read, write, hear, speak
Malayalam
hear, speak
Macromedia
Dreamweaver
Flash
Other visual arts
sculpture
silkscreen
letterpress
caricature
Bonus
typing at 95 wpm
HTML/CSS
Biology I, II
Physics I, II
General Chemistry I, II
Organic Chemistry I, II
Biochemistry I, II
Anatomy & Physiology I, II
Microbiology
Genetics
Molecular Cell Biology
Immunology
Biochemistry Lab
Cell Biology Lab
US Healthcare System
Behavioral Neuroscience
Statistics